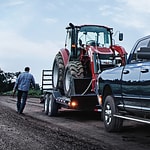 The best-in-class horsepower and versatility of Ram 2500 powertrain options make this heavy duty pickup a top choice in its category. Our Dick Poe Dodge Lp team relies on the Ram 2500 to complete our toughest jobs. With its new powertrain options, now you can tweak your powertrain to dominate even the most demanding residential and worksite driving.
Classic Manual Transmission
Nothing beats the confidence and the feel of manual transmission. Ram 2500's old school Six-Speed Manual Transmission lets you shift gears like a pro, enjoying smooth, responsive, efficient handling at every turn. Plus, the clutch withstands wear and stress, ensuring optimal performance of clutch pedal over the truck's lifetime on roads in El Paso and the country.
Variable Valve Timing 5.7L HEMI V8
Standard on Ram 2500 is the 5.7L HEMI V8. This legendary, hemispherical engine boasts Variable Valve Timing for improved performance and efficiency. On top of this, the 5.7L HEMI V8 hauls 3,060 pounds and tows 13,890 pounds, thanks to its 383 horsepower and 400 lb.-ft. of torque.
Experience Ram 2500 powertrain options with a test drive at Dick Poe Dodge Lp today.