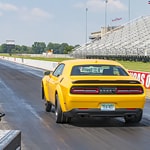 When you buy anything, the first impression that the product offers is of utmost importance. What color is it? Does it look sophisticated? This is especially important when it comes to purchasing a brand new car. Exterior is one of the sole factors in the car's first impression! Fortunately, the Dodge Challenger is a popular muscle car that provides an incredibly impressive exterior.
Design
The exterior design of the Dodge Challenger is by far one of the most important aspects. The available SRT Twin Racing Stripe, SRT badge finishes, and satin black painted roof and hood allow for a stunning, intimidating exterior.
Badges
In addition to boasting a stunning design, the Dodge Challenger allows each buyer to customize the vehicle through the use of badges such as the script badge, the engine block badge, and the scat pack logo badge. Each of these customizations ensures that your car is easily recognizable on each drive through El Paso. If the Dodge Challenger sounds like it might just be the car for you, schedule a test drive at your local Dick Poe Dodge Lp today!