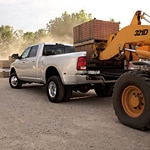 Anyone who cares about the ability to customize their own truck to make it just what they want should look at the Ram 3500. It has a lot of exterior features that one can manipulate to make it exactly what they need. There are fifteen wheel options for starters, and it just goes on from there.
Heated mirrors and other little features like this show that no detail was overlooked when constructing the Ram 3500. The designers behind it clearly went to great lengths to make sure they produced something that the general public would love and would want to use.
People can nitpick just about anything on a vehicle, but it is hard to complain about this one. The exterior turns heads, and the makers are so confident in their truck that they even offer a five-year, 100,000-mile warranty on it standard. You can hardly beat that when it comes to a heavy duty truck!