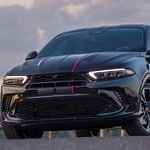 The 2023 Dodge Hornet is a powerful and efficient vehicle that offers excellent value. It is equipped with a powerful and efficient 2.0-liter turbocharged engine that produces an impressive 268 horsepower. The new Hornet has impressive acceleration, and the ride quality is comfortable. The 2023 Dodge Hornet also features Active Noise Cancelation technology to minimize road noise, allowing for a more peaceful ride.
The interior of the 2023 Dodge Hornet is packed with advanced tech features that make driving easier and safer for everyone. It comes standard with a 10.25-inch touchscreen display that includes Apple CarPlay and Android Auto, as well as Wi-Fi connectivity. It also has an electronic stability control system and a rearview camera for added safety.
The exterior of the 2023 Dodge Hornet is designed to impress. It features LED daytime running lights and alloy wheels that help complete the look.
The 2023 Dodge Hornet comes standard with a blind-spot warning to help keep you safe when changing lanes. It also features improved driver assistance technologies such as automatic emergency braking. The all-wheel-drive system makes handling easier when driving on slippery surfaces.